The Riceville Utility District was formed in 1953 for the purpose of obtaining a public water system for Riceville. A Board of Commissioners were appointed to work with the State of Tennessee to purchase land, develop streets and install water mains for private and commercial use. The water system started out by using a local spring and later (due to demand and quality) treated water was purchased from Hiwassee Utility Commission and is currently used today. The first service was installed in April 1961 making up a 160 connections and has continued to grow throughout the years; we currently serve around 1400 connections.
Upcoming Events/Updates (newsletter available at the office)                                                                                                                                                                               
NEW LEAD AND COPPER STATE REGULATIONS                                                                                 
THE STATE IS REQUIRING US TO FIND OUT WHAT KIND OF PIPING EVERYONE HAS. SO PLEASE HELP US OUT BY:
PAYING ONLINE- MAKE NOTE OF IT, IN NOTE SECTION
PAYING OVER PHONE- JUST LET US KNOW
PAYING IN NIGHT DROP- WRITE IT ON STUB
PAYING AT OFFICE- TELL US
RATE INCREASE FOR FISCAL YEAR OF 2021-2022
At the close of each fiscal year RUD works hard to manage and produce a conservative budget that focuses on a well-maintained system to ensure our customers that what you are paying for is the best we can provide. RUD strives to base this budget on current revenues and (although operating cost may increase) avoid rate increases.  The only cost RUD must match each year to ensure our continued operations is the cost of purchasing water from Hiwassee Utility Commission (HUC)who holds the wholesale water contracts for Cleveland, Charleston-Calhoun, RUD, and Athens Utilities.
This year 2021-2022 they are increasing 2%.  RUD will be passing this on to our customers. RUD understands in this day and time any increase in bills is not easy, but we hope you understand that to continue offering this service we must make small increases to avoid larger future increases. This increase will show on your August 2021 bill.
Residential: $27.02 (+tax), for 2000 gallons = 29.65                                                                                                                                             Over 2000, $.54 per 100 gallons
Commercial: $34.63(+tax), for 2000 gallons =38.01                                                                                                                                            Over 2000, $.97per 100 gallons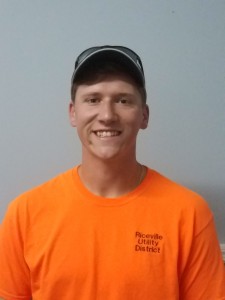 RUD HAS NEW OPERATOR
Riceville Utility District would like to introduce to our customers our new Distribution II Operator. Jacob Walker has been with Riceville going on 3 years and has passed his test with high scores. Jacob was introduced to us through our last CDBG Grant and the Utility was impressed with his work ethic and abilities. Jacob received his Backflow Certification at 2 years and is looking forward to using this knowledge and skills to better serve our customers.
"A wise man is strong, yes, a man of knowledge increases strength"